CRO Biostatistical Services
Clinical Biostatistics & Statistical Programming
Pepgra's biostatisticians direct sponsors in trial design; conduct analysis and evaluation of clinical trials—on par with CDISC (SDTM and ADaM) standards.
Comprehensive clinical and regulatory biostatistics and statistical programming services in all phases of drug and device development.
Pepgra offers regulatory biostatistics and statistical programming services as per International Conference on Harmonization (ICH) E9 guidelines. We have a thorough understanding of the science of diseases and compounds; this know-how equips us to provide comprehensive planning and assistance.
We offer advanced CRO biostatistical capabilities with solid experience in a wide range of therapeutics and complex study designs (e.g., adaptive, Bayesian BLRM statistics, especially for medical devices, outcome, depending on switching/crossover biomarker) and the implementation of complex methods in macros (RPFST, IPE, IPCW). Our regulatory biostatisticians have a firm grasp of time-tested and latest statistical methods to give you an accurate evaluation of scientific data with experience in handling all phases of drug development and medical device clinical studies in every therapeutic area.
Our regulatory biostatisticians and programmers are an integral part of the assessment process as we perform regular training sessions on relevant topics such as CDISC (SDTM, ADaM), ICH and agency guidelines (e.g. FDA, Section 513(a) of the Federal Food, Drug and Cosmetic Act (FFDCA) mandates the Bayesian approach as the least burdensome appropriate means of evaluating effectiveness of a device). Therefore, we guarantee that the statistical principles outlined in the ICH E9 are in conformation when we analyze and generate datasets, tables, listings, and graphs clinical trial data for submission to regulatory authorities. We adhere to QC phases: 1) validation of programming specifications, 2) code review and validation, 3) data quality checks, and 4) standard QC checklists.
Researchers develop innovative methodologies and analytical techniques using SAS and R Programming. We join hands with the best in the field of health and medicine to provide efficient and cost-effective analysis related to neuroimaging, cardiac and pulmonary diseases, and many other clinical disciplines. We customize services to meet your requirements and thus add value to the time and money you invest in us.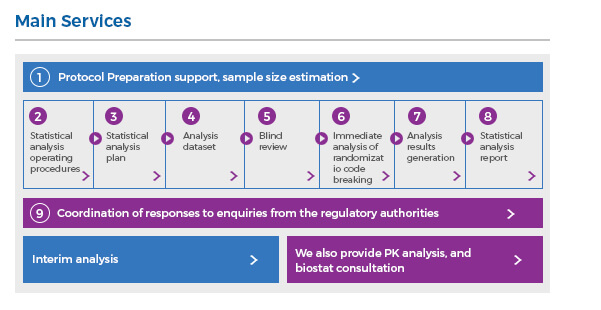 Comprehensive Biostatistics and Statistical Programming Solutions
Design and data collection

Comment and describe the objectives, design, methodology, statistical considerations, and organization of a trial from initial dose titration through post-marketing services.
Analyze in real-time and present findings through scientifically sound interpretation and report those findings.
Create randomization schedule.
Craft techniques to circumvent bias in clinical trials – blinding, randomization.
Consider various trial designs: parallel group design, cross-over design, and factorial.
Estimate sample size based on the study objective (safety and efficacy) and clearly highlight null hypothesis and its alternative.
Proffer support to collect primary and secondary documents from a wide range of source documents that includes hospital records, clinical and office charts, laboratory notes, memoranda, pharmacy dispensing records, subject diaries or evaluation checklists, copies or transcriptions certified, microfilm, x-day, and from any other documents.
Streamline process for targeted on-site monitoring and selected sites.
CRO biostatistics offerings

Identify missing data, inconsistent data, outliers, and unexpected lack of variability and deviation in the protocol.
Perform data transformation, estimation, confidence intervals, hypothesis testing, adjustment of significance and confidence interval.
Examine data trends in terms of consistency, range and data variability within and across sites.
Statistical Analysis Plan (SAP) development, mock tables and LoT.
Guide programmers and review (validate) TLGs (tables, listings, graphs)
Compare multiple treatments: Intent-to-treat (ITT) analysis, multiple primary variables (e.g., Dunnett's, Bonferroni Correction, closed test procedures, and single primary treatment comparison), treatment through center interaction, dose response analysis, and magnitude effect.
Evaluate significant or systematic errors in data collection and report on-site or across site. Report data integrity problems or potential data manipulation.
Analyze characteristics of the sites and performance metrics.
Interim analysis to compare treatment arms with respect to efficacy or safety.
Develop statistical analysis plan: technical and detailed elaboration of the principle features stated in the protocol.
Respond to request and queries from regulators.
Experts in programming through SAS and R.
Statistical programming services

Develop patient profiles and in-text tables, figures, graphs and patient data listings.
Customize offerings for process standardization and build standard macros.
Develop datasets for Study Data Tabulation Model (SDTM).
Define dataset and metadata support via Analysis Data Model (ADaM) datasets (required by FDA, US; PMDA, Japan) and create ".XML" file formats.
Strategize program specs, analyze datasets and Tables, listings and Graphs (TLGs) for safety, efficacy, pharmacokinetic (PK), and Pharmaco Dynamic (PD) endpoints.
Seamless support for interim analysis, data monitoring committee meetings, database lock related activities and regulatory submissions activities.
SDTM Data mapping—conversion and migration—on par with industry standards; includes legacy applications.
End-to-end submission in all facets of clinical trial development.
Full-fledged programming support for regulatory functions, clinical operations, data management and statistics.
Comprehensive programming support services: Clinical Study Report (CSR), Integrated Summaries of Safety (ISS), and Integrated Summaries of Efficacy (ISE) submissions.
The Biostatistics division has extensive experience in reporting research findings. The scope of our statistics starts spans requirements gathering to insightful reports for decision making. Work with us for your biostatistical requirements and free your human resources to focus on important things.
We deliver study designs balanced to meet your business needs and expectations with the current scientific understanding and all regulatory requirements considered.
Allow us to help propel your product forward.
Pepgra's processes are on par with Clinical Data Interchange Standards Consortium (CDISC) principles. They ensure thoroughness at each phase and report accurate findings. Face your uncertainties with the help of their statisticians.
— Dave Miller, CEO of leading drug manufacturer.
We'll scale
up as your needs grow.
No compromising on integrity and quality. Our processes are well defined and flexible to ramp up as per your requirements.
Partnering with
you till the project end.
We come with you all the way. From design to market support
Pepgra CRO Offerings
"Changing global regulatory system, globalization of clinical trials, increased consumer expectations, infrastructural and culture issues, and various diagnostic requirements should never hamper your research and development programs. With our support..."
Download brochure on our CRO offerings (PDF).